Skip Navigation
Website Accessibility
Sew Simple March Newsletter
March 2018 Newsletter
LOOK WHAT'S NEW





Meow by Camelot






Flower Show by Wilmington





Hello Ladies,

Let Spring begin and the rain end. Not sure about the rest of you, but i am getting a little soggy.

We have had so many new fabric's that have arrived and they are all so pretty. Several are shown in the newsletter, but several are not. So you will just have to come in to see the rest.

Hera is our newest Block of The Month that will begin in April. It is so pretty and we have 2 color ways for you to chose from. More information is listed below.

Mystery Quilt weekend has been set and more information is below. Sign-up as soon as possible to reserve your space.

Be sure and check out the coupons at the bottom of the Newsletter. We have two, one for the first part of the month and one for the second part. Be sure and watch those dates.

As always, if you have any questions give us a call at the shoppe or drop an email to me.

Blessings to all!!
Amber


MORE



Northcott




Centenary by Yoko Sarto






February Block of the Month


$15.99 per month for 6 months!
Still time to get in on this BOM
Call, email or stop by the shop to get your name on
the list for this BOM...





March Block of the Month


$10.99 per month for 9 months
Black cotton background with wool applique flowers.
Call, email or stop by to get signed up for this BOM..

April Block of the Month
Hera is a 6 month program
you can do either color way and the
quilt will finish to an 80" x 80".
Cost is $29.99 for 6 months.
Other Block of the Months
coming in the Spring of 2018
---



New Mystery Quilt Weekend




April 13th & 14th



We will begin on Friday, April 13th at 10 am until?
Start back up on Saturday April 14th at 9 am.

If you decide to participate in this Mystery, once you have
signed up and paid you will be given a clue that will give you
fabric requirements and some cutting information to get
you ready to start sewing as soon as you arrive. Then
once you complete your first clue you will be given another
clue and continue this process until you have
finished your Mystery Quilt.

It is always a lot of fun and who doesn't love a good mystery.
It fills up fast, so sign up as soon as possible.
Mystery Fee $25.00


Fabric's DUE TO COME IN FEBRUARY, 2018


Moda





Wimington


Land of Liberty

Andover
Sequoia by Laundry Baskets
Tiger Kingdom



Clothworks
French Connections






New Fabrics and Kits Available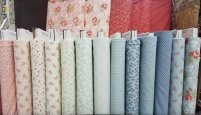 Click on Coupon To Print

SEW SIMPLE QUILT SHOPPE 5241 North 17th Street Ozark, MO 65721
www.sewsimplequilts.com amber@sewsimplequilts.com 417-582-8383
SHOP HOURS: Monday-Friday 10 am - 5 pm Saturday 10 am - 4 pm

Click to visit Sew Simple Quilt Shoppe!