Stop in or give us a call to
schedule an appointment to
quilt a small project so you can
see what all the fun is about.

Financing available based upon approved credit by an outside
agency.


INNOVA IS BUILT TO QUILT!!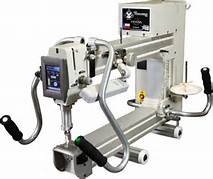 Hello Ladies,


2022 HERE WE COME!! I am looking
forward to all that God has in store for
me and you in this new year!!

Our new Free pattern is pictured below
and is available at the shop.

We have received some new fabric and
I am hopeful that deliveries will get
caught up and more on time as this year
goes by.


We do have room for new sewers on most days. If you are interested in coming in and sewing at the shop just give us a call.

Blessings,

Amber