Stop in or give us a call to
schedule an appointment to
quilt a small project so you can
see what all the fun is about.

Financing available based upon approved credit by an outside
agency.


INNOVA IS BUILT TO QUILT!!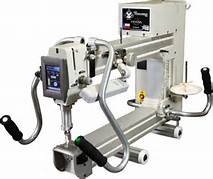 Hello Ladies,


February is starting off with a band of
winter weather - hopefully it will pass in
a couple of days and warmer weather
will be back next week - YEAH!!

New fabrics are starting to arrive on more of a regular basis which is wonderful. We
have received several in the past two weeks. Stop in to see how beautiful they are.


At my Church our Pastor made a statement
that I loved so I am going to share it with you.

"Don't let your life be dictated by Omicron ..but by the ALPHA & the OMEGA."

Blessings,

Amber