Skip Navigation
Website Accessibility
Sew Simple Quilt Shoppe October 2023 Newsletter
October 2023 Newsletter







INNOVA IS BUILT TO QUILT!!





Hi Ladies,
Our first fabric line from Lori Holt has arrived and it is so cute. Be sure and stop in to have a peek and let us know if you would like to see more of Lori Holt's line in the future.

Our new Saturday Sampler begin this month - more information is below - call if you have questions or want to get signed up.

SOMETHING NEW -

every month on the last day of the month we are going to have an END OF BOLT sale. This is on any bolt that has 6 yds or less on it and you must take all that remains on the bolt. Mark it on your calendar for the last day of everymonth.



Blessings,
Amber
SHOP INNOVA LONGARM DEMOS ARE FOR SALE
We have two M24 computerized systems with 12 ft frames and one M24 Hand guided with a 12 ft frame.
All are in great condition and have warranty of around 7 years left on each of them.
If you have any questions or would like to try one of them out please give us a call to get that on the schedule.
NEW SATURDAY SAMPLER BEGINS
OCTOBER 21st, 2023
If you would like to participate in this FREE BOM Quilt give us a call at the shoppe to get signed up. In order to get your block free each month you are required to come into the shoppe. But, if you don't live near by and would like to participate you still can. We can set it up as a regular BOM program and you will be charged a fee each month of $12 to have it mailed to you, again you will need to call the shoppe to get signed up.
You can either chose the blue option with the truck panel or the tan/black/grey option with no panel. The blocks are all the same, just in different color ways.
*************************************************************
YEAH!!! WE HAVE NEW FABRIC & KITS



Windswept Kit / After

n

oon Boo

k

Club Kit / Wild Horses Kit
Chenille Four Patch Kit / Tall Snowman Kit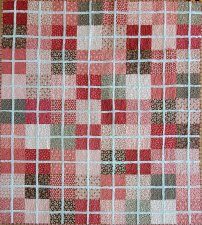 BEE DOTS by Lori Holt / Evermore by Moda
Jurassic Journey
Opulent Owls
Wild Horses
*************************************************
New Fabrics that are scheduled to ship in October!
Fabric's DUE
to arrive in October

Porch Swing by Riley Blake

Tiny Tonals by P&B

18 pieces of tiny tone on tone prints.

Fluttering Leaves - Moda

Southwest Vista

by Northcott
These fabrics have not arrived yet from September, but should be in anytime.
Chateau de Chantilly - French General / Petal Song by Riley Blake
Click on Coupon To Print


Reminder to look at the dates of the coupons
SEW SIMPLE QUILT SHOPPE 5241 North 17th Street Ozark, MO 65721
www.sewsimplequilts.com amber@sewsimplequilts.com 417-582-8383
SHOP HOURS: Monday-Friday 10 am - 5 pm Saturday 10 am - 4 pm
Click to visit Sew Simple Quilt Shoppe!